Hosts:
Tonisha Tagoe, Mike Kellner, 
Guest Panelists: 
Tali Vasilevsky and Ben Pine.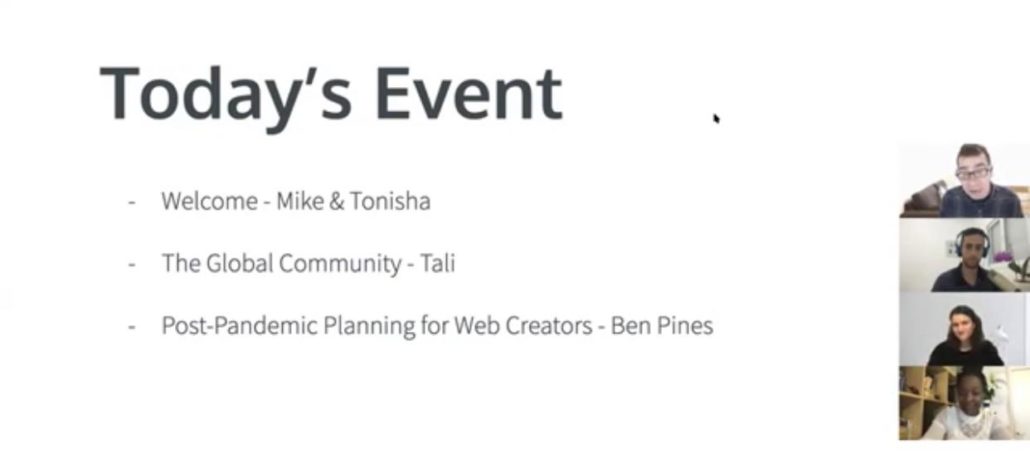 Recap:
Myself, Mike Kellner and special guests Ben Pines and Tali Vasilevsky were excited to finally get to the first birthday milestone of The Enterprise Toolbox as we looked back at all the venues we got to attend over the last year. We somewhat lamented on the last physical event we had the chance to attend before lockdown: a meet-up hosted by We Work in Paddington.
I then launched a short discussion on how The Enterprise Toolbox and other companies had to shift their events to digital formats to keep our followers and stakeholders engaged even during lockdown. 
Shortly after our reminiscence, we discussed our first webinar which had over 30 attendees and, thanks to an advert announcing Ben Pine's attendance, the next event had over 300 people registered and 70 people tuning in consistently—a new record for The Enterprise Toolbox. 
Ben gave a great update on the state of Elementor and its new integrations, followed by an hour long Q&A covering newbie and advanced questions regarding the service. Plenty of ground got covered and Ben outlined some exciting upcoming features for Elementor. 
In Summary:
There is always a silver lining and when we get our heads together, we can adapt our businesses to anything thrown our way. Me, Mike, Tali and Ben are all looking forward to seeing everyone at the next event where we hope for more great feedback and another 5 star rating! 
What is Elementor?
Elementor is an intuitive, front-end site builder for WordPress. It empowers designers to take full control over their sites and complete projects faster than ever before.
Join Elementor London:
To join Elementor London's community and see upcoming events, sign up below: